---
To review or join our
Wine Club, Click on the
Membership button.
---
Warm Pacific Oysters, Leek Confit, Salmon Caviar & Vermouth Cream

Serves 6
Pair with our Kelleher "Block 21" Sauvignon Blanc

For the oysters: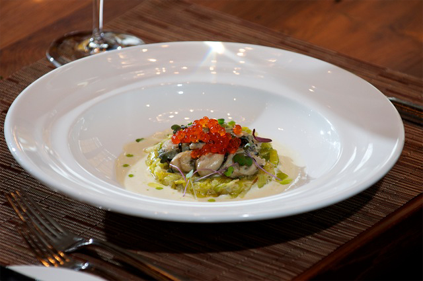 32 medium Pacific oysters
Method for the oysters:
With an oyster held in the kitchen towel and the larger half of the shell on a secure work surface, insert the tip of the knife into the soft area at the hinge of the oyster and gently apply pressure in a downward motion until the knife penetrates into the oyster. Gently separate the oyster from the mussel that attaches it to the shell and place it in a bowl. Pour the oyster liquor through a fine mesh sieve over the oyster in the bowl, repeat with the rest of the oysters, refrigerate & reserve.
For the leek confit:
4 medium leeks
4 tablespoons unsalted butter
Salt & white pepper.
Method for the leek confit:

Separate the dark green portion of leaves from the leeks. Remove the root end and slit the leeks in half length-wise. Wash thoroughly between the leaves and small dice the entire white portion. Place the diced leeks in a cool sauté pan with the butter and slowly increase the heat of the pan until the leeks begin gently simmering with the butter. Season with the salt and pepper and slowly cook the leeks until tender. Remove the confit from the pan and reserve.
For the Vermouth cream:
1 cup dry white vermouth
1 whole shallot
1 tablespoon unsalted butter
2 thyme sprigs
All the reserved oyster liquor
1 cup heavy cream
1 bay leaf
3 whole white peppercorns
1 ounce salmon caviar
Picked herbs to garnish (parsley, chive, chervil & tarragon)
Method for the Vermouth cream:
Dice the shallot and sauté it in the whole butter until soft & add the vermouth. Reduce the vermouth until it is almost dry. Add the oyster liquor, thyme, bay leaf and peppercorns. Bring the mixture to a boil, reduce the heat and add the heavy cream and simmer until slightly thickened and season with the salt. Pass through a fine mesh sieve.
To plate:
Gently heat the vermouth cream & add the oysters and leek confit until the oysters are just cooked. Arrange six oysters each and equal portions of the leek & cream mixture into warmed shallow dishes and garnish with the mixed herbs and salmon caviar. Serve with toasted brioche..