---
To review or join our
Wine Club, Click on the
Membership button.
---
Shortrib and Wild Boar Meatballs

Makes 36 1 ½ oz. Meatballs
Pair with our Kelleher Cabernet Sauvignon
Meatballs: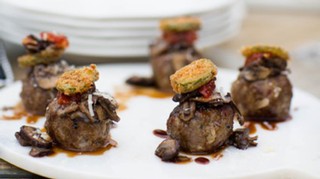 1 lb Ground Wild Boar shoulder
2 Eggs
¾ C Panko
1 C Onion Fine Diced and Sweated
1 T Minced Garlic Sweated with Onions
1 T Anchovy Paste
1 T Worcestershire
½ T Black pepper
1 tsp Chili Flake
1 tsp dry Oregano
1 tsp dry Thyme
2 T Salt
Method:
Place all ingredients in a mixer and mix on medium speed until the meat starts to get slightly stringy. Let the meat rest for an hour in the refrigerator. Roll the meat ball into about 1 ½ oz. balls
Tomato Jam:
1 lb Tomato Concasse (with all juice reserved) about 7 Tomatoes
¼ C shallots brunoise
2 ea. Jalapeno brunoise no seeds
2 tsp garlic minced
5 T Lemon juice
12 oz. Sugar
Sachet
1 pcs. Star Anise
1/2 Orange Zest
2 sprigs Basil
Method:
Score your tomatoes on top and bottom. Blanch them in unsalted water until skin starts to peel back and shook them in an ice bath. Peel the tomatoes and cut the seeds and juice out them and reserving. Small dice the tomatoes. Combine everything including reserved tomato juice and simmer it on medium low until it get to jam consistency.
Balsamic Glaze:
1 ½ C Red wine
1/4 C port
1/4 C Balsamic Vinegar
1 T Aged Balsamic
½ oz. Shallot (sliced)
½ Oz. Bacon
½ oz. cremini mushroom (sliced)
1 Cloves Garlic (sliced)
1 sprig Thyme
1 sprig Rosemary
2 Qt. Veal Stock
Method:
Brown off your Bacon, Mushroom, and shallot, toss in the garlic until cooked. Add Wines and vinegar and reduce to au sec. Add your Veal stock and reduce to consistency then add aged Balsamic and strain with a fine mesh sieve.
Roasted Cremini:
½ lb Cremini Mushrooms sliced
2 T Roasted Garlic oil
1 T Worcestershire Sauce
3 tablespoons chopped fines herbs (equal parts chervil, chives, tarragon & parsley)
Method:
Toss the mushroom with the oil, Worcestershire, salt and pepper and roast in a 400 degree oven for 13 minutes.
Jalapeno Bottlecaps:
Slice 2 jalapenos about 1/8 inch thick. Then 3 step bread them. First flour then egg and then panko. Then deep fry until golden brown.
Final Touches:
When you are ready to serve, place the meatballs in your broiler and roast for about 7 minutes until just pink in the center. Top each ball in order with 1 T of Balsamic Glaze, then 1 T grated parmesan, then 1 T of the mushrooms, then ½ tsp of the tomato jam, and finally 1 jalapeno bottlecap.