---
To review or join our
Wine Club, Click on the
Membership button.
---
Salmon Tartare
Serves 4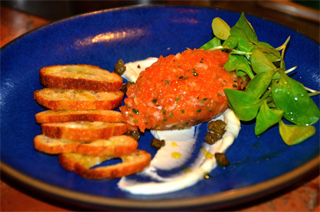 TARTARE:
340 g Cleaned fresh salmon, chopped very fine
9 g Shallots
19 g Sliced chives
10 mL EVOO
10 mL Lemon Oil
Sea Salt to taste
LEMON CRÈME FRAICHE
120 g Crème fraiche
10 g Lemon juice
zest of 1 lemon
salt to taste
TO SERVE:
75 g Mixed Salmon Tartare
1 tsp Lemon crème fraiche
1 Tablespoon Fried Capers
1/2 bunch Mache
METHOD:
1) Trim and discard any bloodline from the salmon and mince. Place the salmon in a mixing bowl. Stir in the salt, shallots, chives and the oils. Taste and adjust the seasonings as necessary. Firmly stir the mixture to create almost a sticky texture. This will give a more delicate mouth feel for the finished tartare.

2) In Rice Bran oil heated to 350F, fry the capers until bubbles no longer appear. Drain well on paper towels and cool.

3) In a small bowl, combine well the crème fraiche, lemon juice and zest.

4) Add 1 small dollop to a serving plate and reserve the rest for another use.

5) Sprinkle the capers on the plate over the crème fraiche.

6) Form a quenelle using two spoons and add to plate.

7) Add mache, season with a little more lemon oil and top with a pinch of sea salt.

8) Serve immediately.
Pair with our "Block 21" Sauvignon Blanc.