---
To review or join our
Wine Club, Click on the
Membership button.
---
Dungeness Crab Fondue
(Makes 6- 8 4 oz. portions)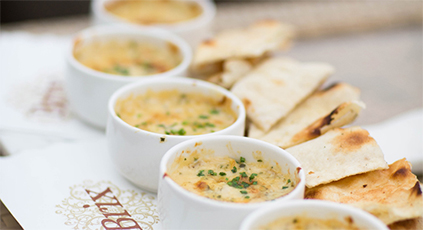 Ingredients
1 oz. Butter
¼ C Flour
6 oz. Milk
6 oz. Cream
7 oz. Brie rind shaved off
3 oz. Gruyere grated
6 oz. Melted leeks
6 oz. Frozen Artichokes (Cooked in mire poix and white wine and chopped)
7 oz. Dungeness crab meat
1/2 Tbsp Roasted garlic puree
1/2 Tbsp Dijon mustard
1/2 Tbsp Old Bay
¼ C Fines herbs
½ of Lemon juiced
½ Tbsp Tabasco
Procedure:
In a soup pot melt the butter and add flour to make blonde roux. Whisk in the milk and cream, cook on low heat for about 15 minutes until the flour taste has been cooked out. While it's simmering whisk the cheese until melted and smooth, then add in the remaining ingredients and bring to a simmer. Taste for seasoning and pour it to a shallow plastic hotel pan, lay a piece of plastic wrap loosely on the surface and put it in the walk-in to chill.
Suggested pairing Kelleher Block 21 Sauvignon Blanc