---
To review or join our
Wine Club, Click on the
Membership button.
---
Dungeness Crab Flan with Pumpkin Seed Pesto
(serves 6)
Suggested pairing Kelleher Block 21 Sauvignon Blanc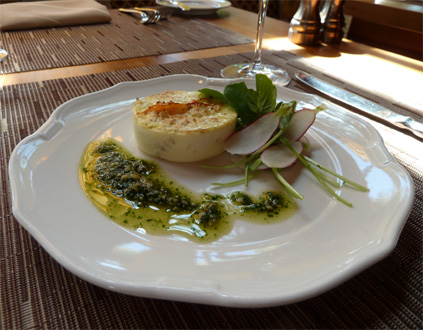 For the flans:
4 ounces cleaned Dungeness crabmeat
1 pint half & half
4 each whole eggs
2 ounces unsalted butter
Salt & white pepper
Pinch fresh grated nutmeg
Method for the flans:
Pre-heat an oven to 350 F degrees. Heat the half & half to a simmer and puree in a blender with the whole eggs. Butter six 3 ounce ramekins and place equal amounts of the crab mixture in each one. Season the half & half mixture to taste with salt, pepper and nutmeg and pour to cover the crab mixture in each ramekin. Place the ramekins in a hot water bath with water coming half way up the sides and bake uncovered until set, about a half an hour. Cool on a wire rack and unmold the flans.
For the pesto:
½ cup roasted pumpkin seeds
2 tablespoons grated Parmesan
2 cloves garlic
1 cup basil
½ cup parsley
2 tablespoons lemon juice
2 teaspoons lemon zest
½ cup extra virgin olive oil
Method for the pesto:
Combine the pumpkin seeds, Parmesan and garlic in a food processor and puree until the seeds are finely ground. Add the basil, parsley, lemon juice & zest. Pulse in the olive oil until just incorporated and the herbs are chopped. Season with salt and white pepper.
Plate the inverted crab flans onto six warmed plated and garnish with the pumpkin seed pesto. Serve alone or with a side salad.