---
To review or join our
Wine Club, Click on the
Membership button.
---
Bronzini with Cherry Tomato and Corn Relish
Serves 2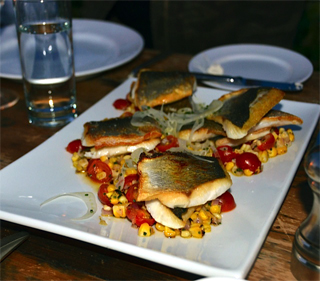 The Fish:
4 ea. Bronzini, 3 oz. portion
¼ Bulb Fennel
Vegetable Oil
Salt to taste

The Relish:
1 cup cherry tomato halves
1 cup corn kernels (previously sweated in olive oil)
¼ cup red onions
2 Tbsp lime juice (or to taste)
1 tsp chopped chives
¼ cup EVOO
Salt and Pepper to taste
1) Prepare the relish – combine all ingredients (saving a tsp of oil and ½ tsp chives for the fennel later) in a bowl and mix thoroughly. Season to taste, then allow to stand at room temperature.
2) On a mandolin or with a sharp knife, slice the fennel as thinlyas possible, through the circumference starting at the bottom. Discard the cores as they fall away. Submerge into enough ice water to completely cover.
3) Prepare the fish – in a medium sauté pan, pour just enough oil to film the bottom and place on the stove over medium high heat.
4) Season the fish with salt. When the oil just begins to smoke lower the heat to medium low, carefully place one of the filets skin side down in the pan, and gently press with a flat spatula or other flat utensil to allow the entire surface of skin to meet the oil. When the fish, has relaxed and no longer tries to curl, repeat with the next filet. Continue until all four are in the pan.
5) When the first filet has cooked 90% (almost all the flesh will have turned white), remove it from the pan to a paper towel to drain. Repeat with the remaining filets
6) On a warm platter, place the small mounds of the relish, taking plenty of the juice that formed in the bottom of the bowl.
7) Season the fennel with olive oil and salt, mix in the chives and place across the platter
8) Add the bronzini across the top of the relish, season with fleur de sel and a little more high quality Extra Virgin Olive Oil, then serve immediately.
Pair with our "Block 21" Sauvignon Blanc.