---
To review or join our
Wine Club, Click on the
Membership button.
---
Beef Carpaccio Hors d'oeuvre
Serves 6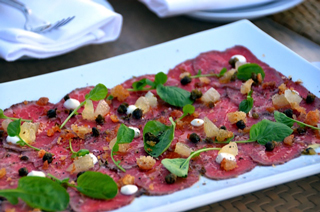 For the Beef
2 ea. 8 oz. Beef Tenderloins
2 cloves of garlic
2 sprigs thyme
2 tbsp butter
Garnishes
2 ea. Meyer lemons, supremes
2 Tbsp capers, fried until crisp
2 Tbsp crème fraiche
1 cup Brioche, medium dice, crust removed
6-8 sprigs of watercress
4 Tbsp Extra Virgin Olive Oil
Salt & Pepper
1) Preheat an oven to 320ºF
2) Heat a large sauté pan over medium high with a thin film of safflower or peanut oil.
3) Season the steaks liberally on all sides with kosher salt.
4) When the oil begins to show wisps of smoke, carefully add the steaks to the pan standing them up on their sides. Cook for 30-45 seconds
5) Using tongs or a meat fork, carefully roll the beef in the pan until the cooked portion is fully exposed. Cook for 30 seconds. Repeat until the entire edge has been seared.
6) Again using tongs or a meat fork, carefully lay the broad side of the steak down in the pan. Cook for 45 seconds to a minute.
7) Add the butter to the pan and swirl to melt.
8) When the butter begins to turn brown and foams, add the garlic and thyme.
9) Flip to the opposite side and begin to baste with a spoon.
10) Place the whole pan into the oven and cook until a thermometer reads 120-125F
11) Remove the meat to a sheet pan lined with a rack and then place in the freezer. Allow to firm for approximately 3-3.5 hours
12) With the oven still at 320ºF, place the brioche croutons on a sheet tray lined with parchment and cook in the oven for 4 minutes. Stir and cook for an additional 4 minutes or until the color is golden all over. Allow to cool.
13) After the meat has firmed completely, set an electric slicer to 1/16" to 1/8". While frozen, slice the beef on the slicer. Remove and discard the first two to three pieces or until the meat has a large red center.
14) Slice another piece and place onto a serving platter.
15) Continue to slice and artfully arrange the pieces overlapping, but in a single layer on the platter. Repeat on 2nd platter with 2nd steak
16) Arrange the garnishes around the platters and finish with sea salt.
17) Serve immediately.
Pair with the Kelleher Family Cabernet Sauvignon.