---
To review or join our
Wine Club, Click on the
Membership button.
---
Irish Central: A tour through Irish American wine country in California by Peter Garland
July 3, 2014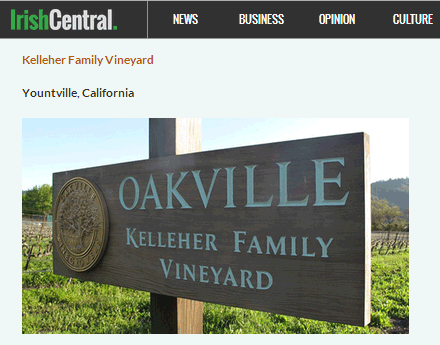 The Kelleher family owns an upscale restaurant named Brix, set amid their own small farm and vineyard.
More than two acres of gardens and orchards provide ingredients for a menu inspired by the culinary traditions of the winegrowing regions in Southern France and Northern Italy.
The restaurant's name reflects the measurement of sugar levels at which the grapes for the Kelleher Family Vineyard's Cabernet Sauvignon are harvested.
Valerie Kelleher's paternal grandparents, Daniel Kelleher and Johanna Connell, were both from Macroom, Country Cork. The family believes Daniel and Johanna Kelleher arrived in New York around 1903-04. Valerie's grandfather, Dennis Kelleher, was born in San Francisco in 1908.
"My parents purchased the land in Yountville in 1995," Valerie says. We dove head first into the restaurant business in March of 1996 and it has been a learning experience each day since!
"We planted nine acres of Cabernet Sauvignon vines. The view from the restaurant's back patio now is of our raised beds of fruits and vegetables, then on to our vineyards and finally to the beautiful Mayacamas Mountains. They bottle about 360 cases each year of Kelleher 'Brix Vineyard' Cabernet Sauvignon.
» Click here to read the entire article by Peter Garland.
An rud is annamh is iontach. "What is seldom is wonderful."