---
To review or join our
Wine Club, Click on the
Membership button.
---
Premiere Napa Valley Auction 2015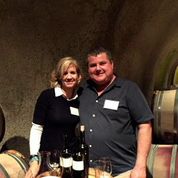 Valerie and Craig at the auction
$6 Million was raised when over 190 wineries and winemakers came together to produce wines which are specifically crafted for this auction and not be sold anywhere else in the world. Every winemaker produces his/her private ¼, ½ or full barrel which is can be tasted prior to the auction. These barrels or lots are sold as futures to be released anywhere from one year to eighteen months after auction. A 19-year tradition, this is a once in a life time experience for the any wine enthusiast.
As in years past, the Premiere Napa Valley Auction was held February 20, 21, and 22, 2015 in the barrel room at the Culinary Institute of America-Greystone.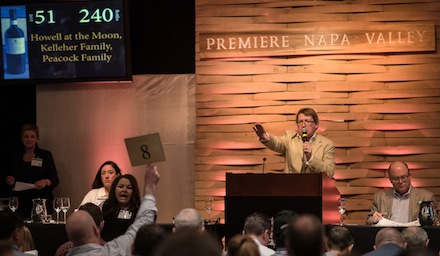 Vinography - The Glory of 2013 Napa Cabernet: Tasting Premiere Napa Valley
Napa Valley Register - Local Premiere Auction Raises a Record $6 Million
Decanter - Premiere Napa Valley Auction Sales Hit $6 Million
Drinks Business - Napa Auction Raises Record $6 Million
WineSearcher.com - Premiere Auction Reaches Record Heights
Wall Street Journal - The Golden State of Napa Valley
About.com - Premiere Napa Valley Wines Score Record $6 Million at Auction
Wine Spectator - Premiere Napa Valley Sale Brings in a Record $6 Million
Wine Enthusiast - Cab Reigns King at Premiere Napa Valley Auction
LA Times - Napa Valley Wine Auction Nets $6 Million
The Daily Meal - Rare Wines Net Napa Vintners $6 Million
San Francisco Business Times - Premiere Napa Wine Auction Brings Record
As with most of our images, click on an image and a high res version will open in a new window, cheers!
» Click here for Premiere Napa Valley Auction 2014